Saturday was a great day. Lorelei and I had decided to meet up at 8 AM for a Sierra Club hike around Silverlake. I cringed at the thought of 9 miles, but I needed a good workout and some "catch-up time" with my cuz. We didn't finish the hike until noon or so.
It was a gorgeous day, and I got to hear about Lorelei's adventures in the UK (on tour with her band, Film School) She got to hear about the clubs and concerts I've been to over the past couple months. I just love that chick. She's a laugh a minute, and has always had a good head on her shoulders. She's just one of those focused, confident people who are so refreshing to be around.
I put together a little video of the hike, but I think Lorelei and I are the only ones who will appreciate it. (It's to Beck's GhettoChip Malfunction Remix of "Hell Yes.")
We did 1,500 stairs, people! And walked 9 miles! Give us some credit. We were so close to turning around, but we were the youngest among a group of "fanny packs and hats that cover your neck," so we had to soldier up and finish. I'm proud of us.
Next hike: Sturtevant Falls...no joke. There's a waterfall with my maiden name in So Cal.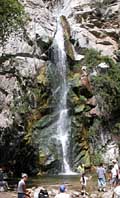 After a nap, I got ready and picked up Joelle, who I haven't seen in forever. She has the most beautiful family. When I see those toddler twins, Asa and Zora, I can't help but be a little jealous of a cozy family life. Having your husband to watch TV with at night, and hearing your kids playing upstairs. Ahhh, someday.

We met up with Lynn and Lisa at The Icehouse in Pasadena, because Lynn was able score some tickets from Bob Zany. He was the headlining comedian that night. Funny stuff. The second comedian was really my style Andrew Norelli, or something like that. I was giggle monster during his set.


Bob:
http://www.bobzany.com/
Anyway, it was a nice calm day of bonding that I really needed. Lorelei, Joelle, Lynn, and Lisa (among a few others) are the people I respect most here in Los Angeles, and I got to see them all in one day. It was like therapy in a way.